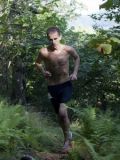 2012 USATF 10K Trail National Champion to Make Half Marathon Race Debut at the 2013 Half Moon Bay International Marathon
9.22.2013
Half Moon Bay, CA – The organizers of the Half Moon Bay International Marathon (HMBIM) today announced that David Roche, the 2012 USA 10k Trail Running Champion, and his fiancée of one month, Megan Deakins, will be making their debut in the half marathon distance at the 3rd Annual HMBIM on Sunday September 29, 2013. Roche is sponsored by Inov-8.
Roche will be traveling from Washington, D.C. where he is currently engaged in a fellowship on public interest environmental law at the Environmental Law Institute. Deakins, a Stanford Medical School student and an accomplished runner herself with four recent wins in the San Francisco Bay Area, will reunite with Roche for the first time since they were engaged in August 2013.
More

Marathon Winners Coast to Victory
Love is in the air on Coastside course
10.2.2013
As featured in the 

Officially, it's known as the Half Moon Bay International Marathon, which this year attracted about 1,200 runners for the full marathon (26.2 miles), half-marathon (13.1 miles) or the 5K fun run.
Unofficially, the race provides a subliminal message for love and romance.
More