2012 USATF 10K Trail National Champion to Make Half Marathon Race Debut at the 2013 Half Moon Bay International Marathon
9.22.2013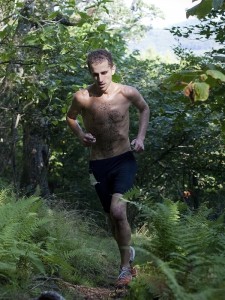 Half Moon Bay, CA – The organizers of the Half Moon Bay International Marathon (HMBIM) today announced that David Roche, the 2012 USA 10k Trail Running Champion, and his fiancée of one month, Megan Deakins, will be making their debut in the half marathon distance at the 3rd Annual HMBIM on Sunday September 29, 2013. Roche is sponsored by Inov-8.
Roche will be traveling from Washington, D.C. where he is currently engaged in a fellowship on public interest environmental law at the Environmental Law Institute. Deakins, a Stanford Medical School student and an accomplished runner herself with four recent wins in the San Francisco Bay Area, will reunite with Roche for the first time since they were engaged in August 2013.
"Megan and I are looking to celebrating our engagement with some running adventures! The Half Moon Bay International Marathon is a great place to start a string of those adventures because it is beautiful and runners from all over the world love this race" said Roche.
Both Roche and Deakins have a goal of achieving the Olympic Trial qualifying standard in the next couple of years, perhaps achieving that goal at the HMBIM. Roche is targeting complete the half-marathon in 1:06:30 or better and Deakins hopes for a 1:17 or 1:18.
"We are honored that competitive athletes like David and Megan chose the Half Moon Bay International Marathon to achieve a possible Olympic qualifying finish," said Eric Vaughan, Executive Director of the HMBIM, "I look forward to toasting their race-day success and their engagement at the post race celebration!"
HMBIM Partner GoPro is providing GoPro Hero3 Cameras for the overall HMBIM Half Marathon champions for both the men's and women's divisions. Runners from 39 U.S. states and 6 countries will be participating in the 2013 event.
###
About the Half Moon Bay International Marathon:
Featuring "26.2 Miles of Running Heaven", the Half Moon Bay International Marathon (HMBIM) was founded in 2011 to showcase the unique beauty of the California coast along with some of the best weather a marathon athlete could ever hope for. The inaugural event in 2011 featured athletes from 25 states and 4 countries and sold out in two months despite very little promotion, and doubled in size in 2012 with athletes from 37 states and 6 countries. An official Boston Qualifier event sanctioned by the USA Track and Field organization, the HMBIM also focuses on creating an eco-friendly event to consider the precious coastal community and worked to attain official status with the Council for Responsible Sport, receiving the coveted Gold Certification from this organization in the Event's very first year. The HMBIM features a full and half marathon and a free JUST RUN 5k event, all on the same day.