2011 HMBIM Winner Scott Dunlap
Aug 22, 2012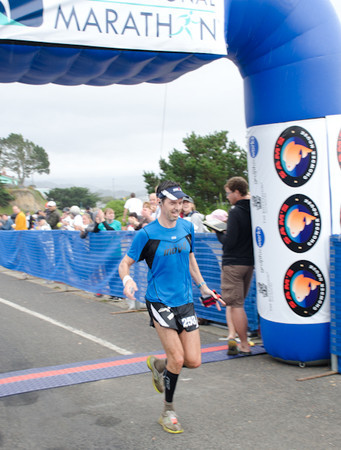 I had the pleasure of interviewing last year's HMBIM men's winner, Scott Dunlap. Scott is an extremely talented "local" runner from Woodside, CA that excels not only in marathons but also ultramarathons; he's no stranger to the 100 mile mountain run or the big city marathon. On course you'll often see him taking picures (yes, while racing) then bound past you with a smile and a "good job". After finishing you'll probably find him along the finisher's chute with a recovery drink and his 2 kids cheering every runner in!
Scott, it's wonderful having you back for the 2012 HMBIM! Last year's inaugural event was wonderful fun; so much so we're doing it again. The staff and volunteers have countless memories that fuel our smiles for this year's race. What was your fondest memory of last year's marathon?
The whole race was pretty amazing, and I sure did enjoy seeing so many locals out to cheer us on. But my favorite moment had to be when the surfers cheered us in the last mile directly from their surfboards. I've never seen that before.
Let's talk about your training. Last year you and I ran the Wasatch 100 Mile Trail race together but then 2 weeks later you not only ran the HMBIM but you won first place overall in 3:00:31. Amazing! That's not a typical marathon training plan (kids, don't try this at home) but it worked for you. I'm really curious, what's your training like for this year's HMBIM?


I generally stay in 2:50-3:00 marathon shape year round, thanks to lots of trail running and cycling. Last year my "peak race" was the Wasatch 100-Mile, so all my hill training and long runs through the summer were just in time for HMBIM. I have a similar strategy this year, except my 100-miler is the Ultra Trail du Mont Blanc in Chamonix, France. I'm hoping to squeeze under 3 hours at HMBIM this year. It's not like I'm doing something insane like four 100-milers in one season like that crazy Franz Dill guy. One hundred miler in my fluffy Hoka One-One's generally leaves enough for a quick marathon.
Now that you're a veteran of the race, what advice would you give a first-time HMBIM runner?


Don't forget your hills and trails! There is a lot of variability in the HMBIM course - roads, trails, roots, sand, hills, and that rolling cart path at the golf course - so be sure to incorporate switching from one terrain to another in your training. I'm also a big fan of mentally splitting the race into three 8.5 mile segments and ensure you are holding back two gears on the first section, one gear in the middle, then give it all you have at the end.
This year the talent increases and the field deepens; there are some speedy runners ready to challenge you for that top podium spot. Are you running to win?


Absolutely. But coming off a 100-miler, I don't have a sprint gear, so I'll need to find the best gear I can hold. I look forward to having a few more in the front pack!
You have a lot of road running experience: Boston, SF, Big Sur, and NYC just to name a few. What unique feature did the HMBIM offer you last year that stood out from those races?


Gorgeous views, awesome volunteers, a mix of road and trails, and a manageable participant size vs those big races. I think I met nearly every finisher last year! And the clam chowder rules. I think beer and clam chowder may be the best recovery combo yet.
And finally, if you could describe your 2011 HMBIM experience in one song, what would that song be?


Amongst The Waves
, Pearl Jam ("Flying high amongst the waves/I can feel like I have a soul that has been saved")
Please add your bio info through your member profile page, or through your dashboard.
Add Pingback
Please add a comment
You must be logged in to leave a reply.
Login »