Half Moon Bay International Marathon Course Certified by the USATF
Certification enables marathon distance to allow qualifying athletes to apply for Boston Marathon
8.11.2011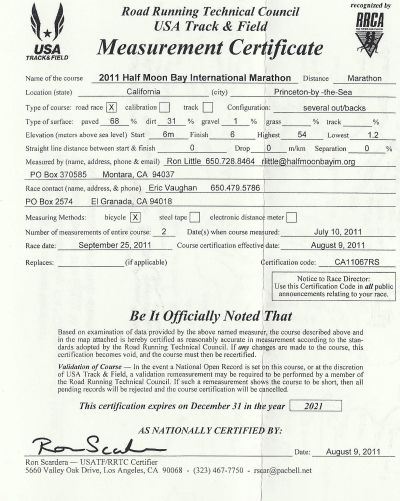 August 11, 2011 - Half Moon Bay, CA  - The organizers of the Half Moon Bay International Marathon (HMBIM) announced today that they had received official notice of official certification by the USA Track and Field (USATF) organization of the Event's course. A certified course enables athletes to use the race as an official qualifier for races including the Boston Marathon. 
"This is a very important milestone for the Half Moon Bay International Marathon, and was a key focus in our very first year," said Eric Vaughan, Executive Director. "This only happened because of the tireless effort of Assistant Race Director Ron Little, and the time he invested to make sure it happened." 
In its inagural year, the HMBIM sold out in less than 3 months, and is welcoming athletes from 28 states and 4 countries. In addition to attaining USATF certified status, the HMBIM is also focused intensively on its Green efforts to ensure the events are eco-conscious and sustainable as the event grows. 
About the Half Moon Bay International Marathon:
Featuring "26.2 Miles of Running Heaven", the Half Moon Bay International Marathon (HMBIM) was founded in 2011 to showcase the unique beauty of the California coast along with some of the best weather a marathon athlete could ever hope for. The inaugural event in 2011 featured athletes from 25 states and 4 countries and sold out in two months despite very little promotion. An official Boston Qualifier event sanctioned by the USA Track and Field organization, the HMBIM also focused on creating an eco-friendly event to consider the precious coastal community and worked to attain official status with the Council for Responsible Sport, and received the coveted Gold Certification from this organization in the event's very first year. The HMBIM features a full and half marathon and 10k and 5k events all on the same day.