2012 Half Moon Bay International Marathon Men's and Women's Champions to Return to 2013 Event
9.13.2013
Half Moon Bay, CA – The Half Moon Bay International Marathon (HMBIM) today announced that the 2012 men's and women's champions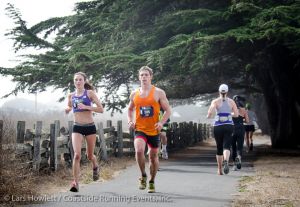 will be returning to defend their title at the 2013 event. The 2012 overall winner, Kimberly O'Donnell will join the men's winner, Ryan Neely, at the starting line of the event to be held September 29, 2013. Both athletes also set new HMBIM course records in 2012.
Kimberly, a 23 year old PhD student at University of California, Santa Cruz has an impressive running history and so far in 2013 has placed 1st at the OC Marathon, Newport Beach, 1st (course record) at First Wave Half Marathon in Santa Cruz, 1st (course record) Rodeo Valley Trail Run, Sausalito and 3rd place in the Arizona Rock n' Roll Marathon.  "I look forward to running in this year's Half Moon Bay International Marathon and defending my title. The course has spectacular views of the Pacific Ocean, the marathon is very well organized and the staff and volunteers are very helpful and friendly", said O'Donnell.
Ryan Neely, Kimberly's boyfriend, will also be defending the men's title and course record.  Neely, 23, ran track and cross country at Harvard and is currently enrolled in the Neuroscience Graduate Program at UC Berkeley. Ryan recently took 1st place at the Rock n' Roll Arizona Marathon with a winning time of 2:31; it was the second marathon he had ever participated in.
"We are thrilled and excited to welcome Kimberly and Ryan back to defend their titles. Having the past year's champions return lends another level of excitement to what we believe will be an amazing Event", said Eric Vaughan, HMBIM's Executive Director.
HMBIM Partner GoPro will once again provide a $500.00 cash prize to both the men's and women's champions for the 2013 full marathon event.
###
About the Half Moon Bay International Marathon:
Featuring "26.2 Miles of Running Heaven", the Half Moon Bay International Marathon (HMBIM) was founded in 2011 to showcase the unique beauty of the California coast along with some of the best weather a marathon athlete could ever hope for. The inaugural event in 2011 featured athletes from 25 states and 4 countries and sold out in two months despite very little promotion, and doubled in size in 2012 with athletes from 37 states and 6 countries. An official Boston Qualifier event sanctioned by the USA Track and Field organization, the HMBIM also focuses on creating an eco-friendly event to consider the precious coastal community and worked to attain official status with the Council for Responsible Sport, receiving the coveted Gold Certification from this organization in the Event's very first year. The HMBIM features a full and half marathon and a free JUST RUN 5k event, all on the same day.