Event Info
The 2016 Half Moon Bay International Marathon includes a full 26.2 marathon event and a 13.1 mile half marathon event.  
EVENT DATE:  Sunday, September 18, 2016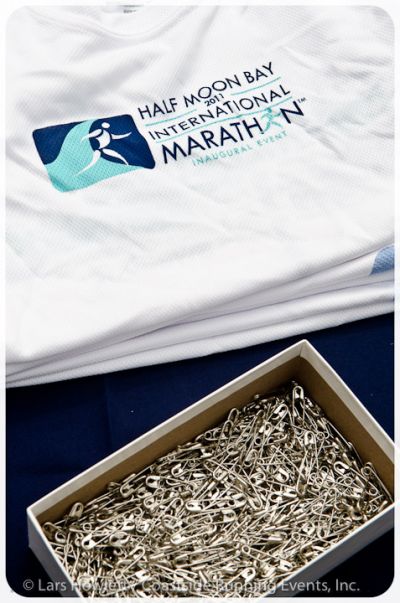 START TIMES 
(all times PDT):  
Full Marathon: 7:00 a.m.
Half Marathon: 7:15 a.m.
REGISTRATION: All events are capacity limited and sell out in advance. Registration is available by clicking here.
PACE GROUPS: The HMBIM will not have Pace Group leaders at the Event. 
SEPTEMBER WEATHER: Average high: 67°F, Average low: 52°F.  This is the most beautiful weather period on the "Coastside" , and we feature the most incredible, clean sea air you've ever experienced! Just look to the right at the weather info to see what it is like right now in Half Moon Bay!
What's Included
WHAT DOES MY ENTRY FEE INCLUDE?

Technical shirt with a very special design (both Marathon and Half Marathon)

GU Gel Products and Electrolyte drink at the Aid Stations at the start/finish! 

The only marathon and half marathon 100% along the Pacific Ocean with virtually no highway roads!

Healthy snacks and drinks at the start/finish line

Entertainment at the finish line including live music!

Finisher's medal for the full and half marathon events

Online results reporting and special coverage in the local press

Port-a-potties on the course, along with Recharge Stations with fluids and GU products

Medical care including emergency stand-by and first aid at every aid station. 

A once-in-a-lifetime experience in one of the most beautiful running spots in the world
Rules/Tips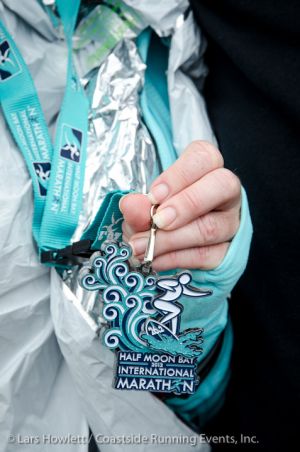 OFFICIAL TIMEKEEPING:  The HMBIM features Bib-tag timing to time all events. You will receive your tag at Packet Pickup and it is affixed to the back of your bib. Please just wear your bib as delivered, and don't fold the bib to avoid any issues with your timing tag. 
HEADPHONES AND MUSIC: Our course is conducive to running with headphones, so tune in and rock out! 
BYOB: As part of our GREEN effort of the HMBIM, we highly encourage the use of your own water bottle during the event, however, this is optional, and cups will be provided at the recharge stations. 
PACE GROUPS: The HMBIM will not have pace groups for the events. 
AWARDS AND RECOGNITION:  ln accordance with USATF guidelines, the top 3 OVERALL and MASTERS awards will be based on GUN time, not  B-Tag (i.e. Chip/Net) time.  Divisional age group and Top Coastside awards will be based on B-Tag/Chip/Net time. 
We will provide awards and recognition as follows for the Full and Half Marathon events: 
Top 3 Male and Top 3 Female Finishers (Based on GUN time)

Top 3 Masters (age 40 and over) for Male and Female (Based on GUN time)

Top 3 Age Group awards for Male and Female (Based on chip/net time)

Top Coastside Male and Female (Based on chip/net time)
REGISTRATION LIMITS: Full marathoners must be 18 years or older. Half marathoners must be 16 years or older. All athletes should be in good health on the day of the run.
MEDICAL:  The HMBIM team regards safety and medical concerns very seriously. We will have licensed medical staff on-site at the start/finish line, led by our Medical Director, Dr. Pamela Carrington-Tribble, D.O. We will also have trained first-aid staff available at every aid station for any minor medical issues. Please click here to consult valuable medical information compiled for athletes by our Medical Director. 
EVENT CUTOFFS: We will close the course 6 hours after the Full Marathon Start, or at 1:00 p.m. PDT. All distances must be complete by this time. Anyone finishing the event after the course closes will not be recognized as an official finisher. All runners have electronically signed the event waiver at registration time which specifically mandates removal from the course if you will not finish within the cutoff time, so please make sure you are prepared to comply with this rule. This is for the safety of the athletes and to ensure contingincies are managed properly. 
Cancellations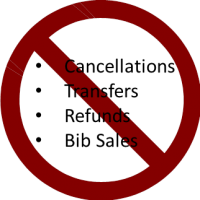 CANCELLATIONS:  
As acknowledged when you registered and signed the Athlete's Waiver, your current year registration is NOT TRANSFERABLE to a subsequent year or another person, NON-REFUNDABLE and NON-CANCELLABLE. 
Bibs may NOT be sold, and the HMBIM will confirm identity of all bib-holders. The Half Moon Bay International Marathon reserves the right to disqualify any runner using another athlete's bib. 
Please review the "Registration Protection" option during checkout of your registration on Active.com for new options. This can ONLY be selected during initial registration and Active.com does not allow athletes to add this option later. 
Active provides the Registration Protection, but if that is not selected, there are no cancellations for any reason, and no refund will be issued for any reason regardless of urgency or circumstances. THERE ARE NO EXCEPTIONS.
Parking
We are a GREEN event, so PLEASE carpool for all the right reasons! Take advantage of ride sharing and meet fellow HMBIM athletes! We're the home of Tesla, and the land of Prius--come on, you know you should! 
Check out:
We are very grateful to continue our community cooperation by working with the Half Moon Bay Airport for all Race day parking for athletes (and others in the same car). Parking will open at 5:30 a.m. on Race Day. There will be no access prior to 5:30 a.m. so please plan accordingly. 
All athletes, staff and volunteers should park at the Airport provided location. There will be no Event Parking in the Harbor. 
Please Note: All cars must leave the Airport grounds no later than 5:00 p.m. on Race Day. Any cars left behind at 5:00 p.m. will be removed from the Airport grounds at the owner's expense. 
| | | |
| --- | --- | --- |
| Parking Address |     | Address of Start/Finish |
| Half Moon Bay Airport |   | HMBIM Start/Finish Line |
| 9850 Cabrillo Hwy |   | 371 Princeton Road |
| Half Moon Bay, CA 94019 |   | Half Moon Bay, CA 94019 |
Entrance will be off of Capistrano Road as per the parking map.