There are always so many amazing stories our athletes bring with them! There was the US Air Force fighter pilot wrote us from Afghanistan to tell us he had been training on assignment for a marathon, and ours was his choice. Also in our inaugural year, a man who had recently lost his wife to illness ran the entire race with a pink rose, which he laid on the finish line in her honor when he finished.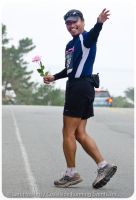 We want you to tell us YOUR story! If you have something to share---a unique motivation or inspiration behind why you're joining us on September 29th, let us know. We may use your story in local press, Facebook or other social media, or for interviews with other resources. 
Everyone who submits a story, whether we use it or not, will be entered into a drawing for a fantastic GoPro Hero3 Camera from our Gold Partner, GoPro, chosen at random, to be drawn and announced after September 29th. 
So let's hear it--tell us your story! 
---
WAIVER, RIGHT TO USE
I grant Coastside Running Events, Inc. d/b/a Half Moon Bay International Marathon (HMBIM)  permission to use my story and/or likeness in a photograph in any and all of its publications, including Web site entries, without payment or any other consideration. 
I understand and agree that these materials will become the property of the HMBIM and will not be returned.
I irrevocably authorize HMBIM to edit, alter, copy, exhibit, publish, distribute or use my story for purposes of publicizing the HMBIM events or for any other lawful purpose.
In addition, I waive the right to inspect or approve the finished product, including written or electronic copy, wherein my information appears.
Additionally, I waive any right to royalties or other compensation arising or related to the use of the information. I hold harmless and release and forever discharge HMBIM from all claims, demands, and causes of action which I, my heirs, representatives, executors, administrators, or any other persons acting on my behalf or on behalf of my estate have or may have by reason of this authorization. I am 18 years of age and am competent to contract in my own name.